Coaching Services
Culture Athletics' affiliate coaching program is THE RUNWAY, lead by Darren Weldrick.
This is not your typical coaching program that provides catch-all, templated plans and "fits" runners into a cookie-cutter regime. Taking a hands-on method to coaching, the RUNWAY prides itself on building unique plans to meet the individual goals of each of its members. By taking a truly customized approach, THE RUNWAY puts the runner's history and aspirations at the centre of the program -- allowing you to get faster and run further, in a safe but accelerated way.
An integral part of any effective training program is injury prevention. With an early background in track and power lifting, Darren has integrated strength-focused programming into the heart of THE RUNWAY's approach, building up your body's ability to thrive under the duress that is mid/long distance running. Making you #BulletProof.
Find out what it means to be #BulletProof. Build up your speed, mileage and strength, while minimizing risk of injury.
SPECIAL CULTURE ATHLETICS OFFER AVAILABLE. Email for more info.
For more information, email darrenweldrick@runningtherunway.com

Some more info on The RUNWAY:
The RUNWAY is about the pursuit of excellence at whatever ability level that represents. We are fully customized and emphasize actual training and in person coaching rather than relying solely on technology to train athletes. We offer 4-5 workouts a week depending on time of the year.
We offer full running analysis including gait and functional strength exam, and we have dealt with all levels of medical issues and injuries – from blood disorders to IT band rehab, you name it. Our training approach is long term and "PRE-hab" meaning we want to avoid injuries all together. #BulletProof.
Additionally, The RUNWAY is about bringing like minded people together. We all love to run, we all work hard, we all want to enjoy what we do. So in addition to training, we make sure to keep things fun and interesting (it's not all fartleks and hill sprints). This includes training camps in Montreal, running pub crawls, city chases, team races abroad, and the @runtomtl fundraiser (which tries to bring all running groups together). Our group is a place where you will feel like you belong.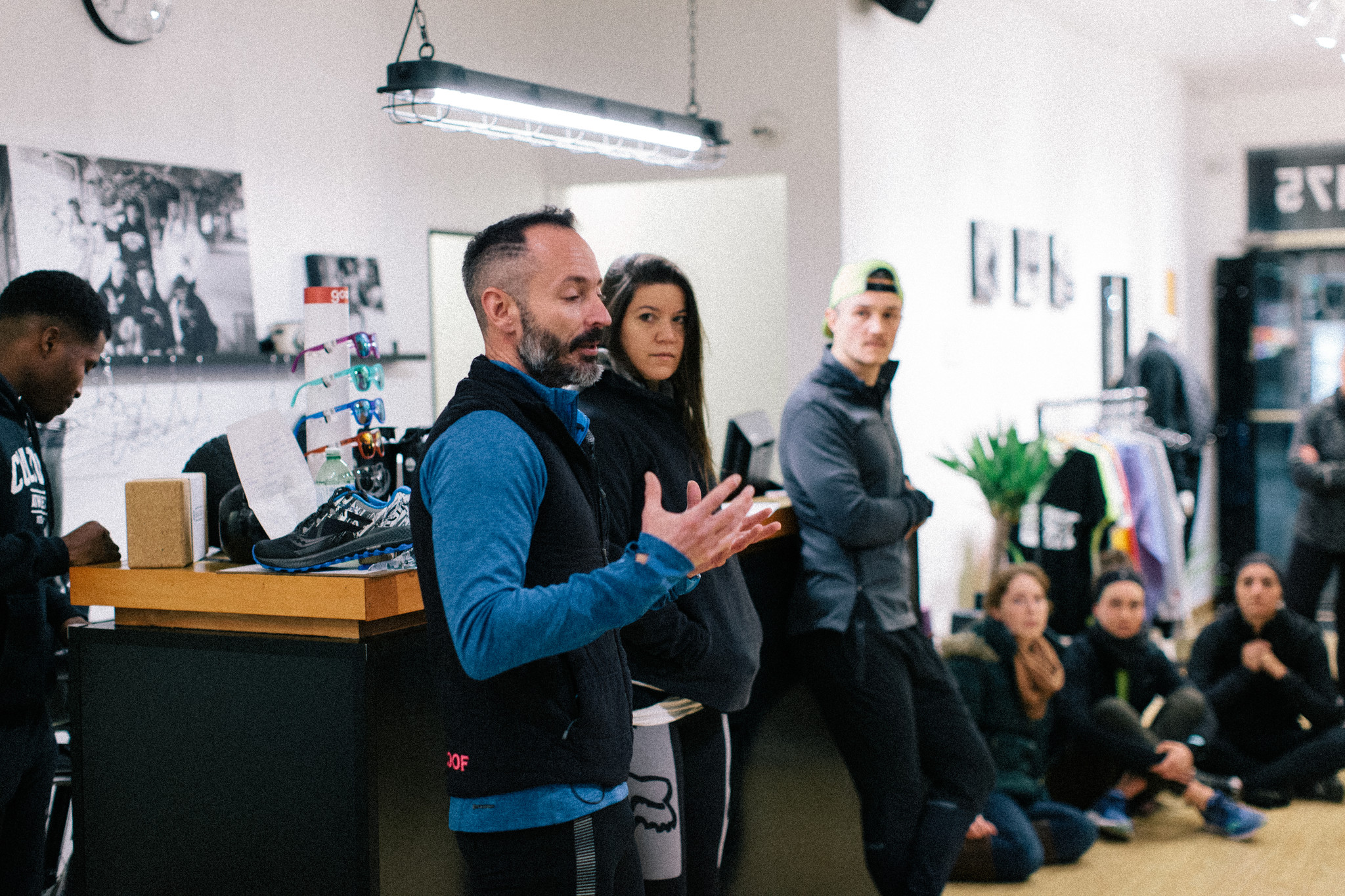 Some more info on Darren Weldrick:
Darren is the Owner/Head Coach of THE RUNWAY and in-store Coach/Consultant at Culture Athletics. As one of the cities most tenured running coaches, Darren has been coaching all levels of competitive running for almost 20 years – from weekend warriors to college athletes, ultramarathoners and everything in between.
With a long background in track and power-lifting, Darren has been running competitively for 35 years. Finishing top 10 in most of the GTA's top road races, as well as some trail races. Darren has since switch to the challenge of ultra relays, running The Speed Project twice -- leading a 6 person team to a 4th place finish (if you don't know what the speed project is, check it out here. TL;DR: it's a 341 MILES relay across Death Valley from LA to Vegas). Darren has also started The Run to Montreal – an annual ultra relay running from Nathan Phillips Square, TO to the top of Mount Royal, MTL. Additional accomplishments include pacing for the Wild Bruce Chase team (100KM of pacing in 3 days) and leading teams in the Peak2Brew ultra relay (from White Face mountain, through the Adirondacks to Utica).
Darren founded the RUNWAY in 2005. Prior to this he co-owned another long time Toronto coaching company. He's also one of the only running coaches in Toronto has been a strength coach throughout the duration of his career.
Additionally, he is currently a rep for Orange Mud, The Trail Runners Store and the Head GTA Ambassador for Xact Nutrition. Working throughout the Running industry in Toronto, he's been a sponsored athlete of Saucony, New Balance, Reebok and Puma (where he was also in charge of national athlete sponsorships). 
For more information on the RUNWAY or any of his Ambassador programs, email darrenweldrick@runningtherunway.com.